So, you've finally saved up enough money for a trip to Hawaii. It's definitely worth it: Hawaii is the most stunning island chain on the face of the planet, with natural sights to remember for a lifetime. But you're also a camping enthusiast, and would very much wish to exercise your passion on Hawaii's shores or in its forests. Where could you do that, and what should you know beforehand?
Hamakua Coast might just be your dream destination in that respect. In this guide, you'll see exactly why that is, as we cover its natural splendors, history, and how to create the perfect camping experience.
Hamakua Coast: A Natural Haven
Hamakua Coast stretches about 50 miles along the Northwest shoreline of Hawaii, the largest island in the chain. Running counter to what the name suggests, this area also includes a vast region that dives deep into the Big Island and far from its shore, brushing borders with both Northernmost and Southernmost districts.
Hamakua encompasses some of the most jaw-dropping vistas you'll see on the entire island. Verdant valleys and thick rainforests cast a colorful shroud over the hidden waterfalls throughout the territory. From most points, you can marvel at the endless ultramarine expanse that is the Pacific Ocean. For a better look, tall steep cliffs the wind carved over millennia overlook the endless waters. Meanwhile, Mauna Kea, the massive slumbering volcano, watches over all of Hawaii, reaching the height of more than thirteen thousand feet.
Few places on Earth are host to so many diverse and breathtaking natural wonders. Any camper should count themselves lucky to get a chance of sharing its view of the stars at night.
Hamakua Coast — History
In Hawaiian legends of old, the aforementioned Mauna Kea's summit was home to benevolent supernatural beings. The peak was the most sacred of all places in Hawaii, and where Poliʻahu, the local people's snow goddess, resided. It was revered as a sanctuary for the gods, as well as people who worshipped the nature around them as an extension of their deities.
In more recent times, though, Hamakua was no stranger to industry. In the nineteenth and twentieth centuries, it served as a major hub for the production of sugar cane. The fertile land yielded plentiful crops, providing for America's mainland throughout the years. Production lasted all the way until 1994, when the final sugar factory (Hamakua Sugar Company) ceased operating. Nowadays, farmers use the land to grow a whole assortment of tropical fruit and vegetables.\
Camping in Hamakua Coast
Now that you have a good feeling for the scenery, let's talk about what campers should look out for in this region. The first thing you should be aware of is that camping permits can only be purchased either online or at District Offices. You should also print a copy and bring it with you while on-site. With that out of the way, let's explore what Hamakua has in store for campers.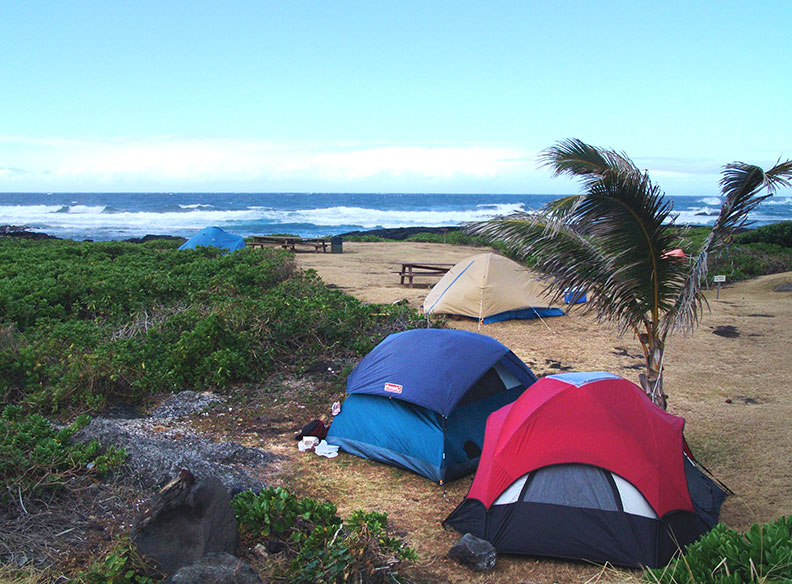 Hamakua Coast is actually quite the hotbed for camping activity. Seeing that so many marvelous sights exist here, it's hardly a surprise. Some must-sees include Volcanoes National Park, Akaka Falls, Waipio Valley, Laupahoehoe point Beach Park, and the Hawaii Botanical Gardens, located in Onomea Bay.
Kalopa State Recreation Area is a major draw for nature lovers, as they provide cabins capable of accommodating up to eight people. You'll find plenty of places where you can pitch your tents. As a matter of fact, there are dozens of hammocks, cabins, and cabanas that you may rent for the night. They're mostly situated near the coastline at the Eastern part of the area. The prices for lodging in these range from about 40 to 100 U.S dollars.
As far as conditions go in Hamakua Coast, camping comes with a few luxuries, but it's not quite a hotel stay. The aforementioned Kalopa Area contains potable water, as well as pavilions and restrooms. It also contains picnic areas, including tables and trash cans. Hiking routes are also well established and offer a splendid experience for adventurer types. With that in mind, you should know that camping here doesn't come with showers or electricity.
If you plan on camping in Hawaii (the Big Island in particular), Hamakua Coast is probably the most magnificent choice for you.
Tips for First-Time Campers
In the case you're new to the camping scene, you might need a tip or two to ensure the optimal experience. To that end, here are some pointers on how to find the best grounds on which to pitch your tent:
Consider the leveling of the ground: you're looking for as flat a surface as possible. If you pitch at a slope, your tent might collapse.
Find shelter from the wind: whenever scoping for a good place to set up camp, natural protection from wind is a must. You don't want your entire setup to get blown away, do you?
There must be shade: Especially for tropical destinations like Hawaii, shielding yourself from the sun matters a great deal. Nobody likes sunburns, not to mention all the other nasty things that happen when you overexpose yourself to sunlight.
Avoid places where puddles may form: when the rain comes (and there's a lot of it in Hawaii) you'll get soaked in the accumulated water. We don't need to tell you why that's a bad thing.
When at the coast, watch out for tide: although you might not expect it, areas quite away from the water actually see a lot of it during high-tide. If the ground looks flat and dry, odds are the ocean can reach it.
Clear out your tent area: get rid of twigs and rocks, since they can cause discomfort while sleeping.
Always be near drinkable water: this liquid will be your lifeline while in the wild. If none is around for you to drink, you'll be in dire straits. Always position yourself in proximity to potable water if any exists.
Plan out your camp design: think about where your fire will be, where you'll put your clothes, where to wash them, and so on. You ought to be mindful of wind direction as well. Hawaii's wins tend to blow from East to West. Therefore, make your fireplace where the smoke won't reach your tent.