Few sights in the natural world inspire as much awe as the Appalachian Mountains. This monstrously large mountain chain spans 1500 miles over several Northeastern United States countries and reaching into Canadian territory. Campers throughout the States consider it one of the must-see camping destinations in the USA and beyond. The mountain range includes a broad selection of trails, camping grounds, and vistas to remember.
The rainforest of the Appalaches is spectacular to behold. It's situated at the south, in Virginia, Georgia, Tennessee, as well as North and South Carolina. It touches the famous Appalachian Trail, a national treasure under the watch of the Appalachian Trail Conservancy. Among U.S. forest lovers, this is the Mecca of camping with natural beauty beyond compare. If you feel like camping in the Appalachian rainforest, this guide will tell you everything one needs to know about the region.
Best Places to Visit
While the Appalaches is host to a plethora of jaw-dropping vistas, these parts of the Appalachian rainforest deserve special mention. We will be inspecting splendid slices of national forest beauty on the Blue Ridge Mountains, North Carolina's most treasured natural wonder.
The Blue Ridge Mountains
At the West region of North Caroline lie the Blue Ridge Mountains. They are home to a bounty of lush forests, stunning rivers and waterfalls, as well as a diverse host of wildlife. There is a wide variety of activities to find on Blue Ridge, and the Blue Ridge Mountains is among the best places for enjoying them, with plenty of both primitive and full-amenity camps.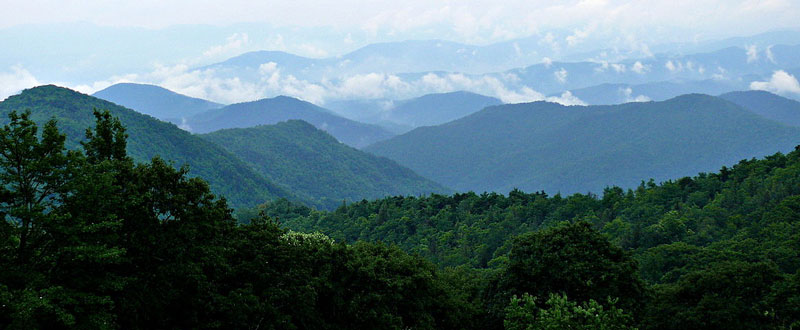 Blue Ridge Parkway

One of the most outstanding Blue Ridge landmarks has to be the Blue Ridge Parkway. This magnificent roadway spans over 400 miles along the mountain's spine. Throughout its asphalt, you'll be treated to a swathe of wondrous vistas. There are nine camping areas on this stretch of road, which have RV and tent sites. However, the National Park Service does not permit backcountry camping in this region. In addition, there are two national forests: Pisgah and Nantahala National Forests. Both are perfect for a slew of activities, including rock-climbing, camping, and fishing.
Blue Ridge Parkway stores about a dozen walkways for your hiking pleasure. They range from casual, brisk-pace roads to challenging treks across the country. Moreover, there are three campgrounds: Pisgah, Crabtree Meadows and Falls, and Julian Price Memorial Park. If that wasn't enough, bicycle enthusiasts also rate the Blue Ridge Parkway among the loveliest places for riding.
Julian Price Memorial Park
A massive 4,200 acres comprise this natural refuge just under Grandfather Mountain. There are mountains, valleys, meadows, and everything in between waiting for exploration. It's also home to the Parkway's most visited picnic site where you can unwind from the world's hustle and bustle. In addition, the lovely Price Lake is situated here, some 47 acres in size. The 13.5-mile Tanawha Trail that runs parallel to the Parkway is a definite highlight of the campground. Julian Price Memorial Park contains 68 RV sites and 129 tent areas with restrooms.
Crabtree Meadows
A most serene recreational area, Crabtree Meadows encompasses over 250 acres of unspoiled land. Springtime brings with it a colorful array of flora, like Gentian, Beard Tongue, and Hawthorne. Crabtree Falls grace the lands and are the campground's 70-foot cascading crown jewel. Reaching them, though, takes a bit of work, requiring 2.5 miles of hiking. Beyond that, you'll be treated to a vast area, including 80 tables. Your stay there will take you backward in time, with no showers, hook-ups for electricity, or laundry facilities.
Pisgah
For something a tad different, let us take a look at an all-girls campground. Deep in Brevard, Western North Carolina, you'll find Camp Pisgah. It spans over 160 acres of land, on which more than 60 different programs take place. The camp's pride and joy is its affiliation with Girl Scouts Carolinas Peaks to Piedmont, an organization dedicated to enriching young girls with vital outdoor skills and experiences that build character and confidence. The grounds do not permit cell phones or telecommunication.
The Great Smoky Mountains
Tennessee and North Carolina share these breathtaking mountains, home to the stunning Great Smoky Mountains National Park. Nonetheless, they both get their piece of secluded natural havens. If you happen to visit the so-called Shaconage, consider the following places for your camping pleasure.
Smokemont Campground
On the southern side of North Carolina's slice of the mountain, the Smokemont Campground includes 142 sites (active year-round). The Oconaluftee Visitor Center and Mountain Farm Museum are definite highpoints. With restrooms, running water, picnic tables, and a fire grate, Smokemont works excellently for those uneager to venture too far into the thicket, seeing its proximity to civilization. RV owners can also hitch their wagons and soak in the scenery.
Cataloochee Campground
If you prefer more solitude, the Cataloochee Campground delivers at the price of $20 a night. Make reservations at one of its 27 camps, which run in the season between late March and October. The grounds come with flushing toilets and running water, as well as picnic tables and fire grates for every camp. Be warned, though, that just reaching the campground poses a challenge. It involves enduring a gravelly road and drop-offs without guardrails. Beyond that, for the hiking souls among you, there are two trails: Rough Fork and Caldwell Fork (both of which horseback riders can also enjoy).
Forney Creek Trail
Are you determined to tackle the daunting Appalachian trail? If so, you would miss out if you didn't camp out at the Forney Creek Trail for a spell. In case you make it a loop, there are over 20 miles of pathways along which you can soak in the scenery. If you've got a backcountry permit, you can visit sites 68 through 71 and experience the finest the AT has to offer. Conquer places such as Andrews Bald, Clingmans Dome, and Fontana Lake, which stores a magnificent view of the Smokies.
Conclusion
As you've noticed in this guide, Appalachian rainforest camping holds more than enough adventure to keep you coming back year after year. From several top-notch camping grounds to winding hiking trails to jaw-dropping nature scenery, you'll never forget your experiences in these mountains. As always, remember to pack everything you need, stay respectful to the wilderness, and don't forget to enjoy your stay!