When was the last time you did something wild? No, we don't mean like not paying your bills as soon as they arrive at your doorstep. Rather, we're talking about a truly adventurous journey, the likes of which few have experienced. You know, something you would put on your bucket list.
If you've been on a dry spell adventure-wise, then why not try jungle biking? It has everything a great story needs: an exotic destination, fast-flowing action, and a spot of danger. If that appeals to you, then awesome! But where does one go for this kind of experience? We've got an idea or two. On this list, you'll find the best places for jungle biking!
St Lucia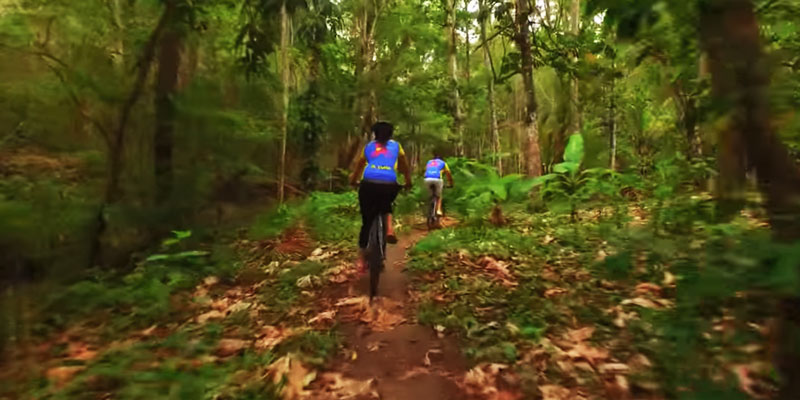 Few places shelter the kind of untamed wilderness like the Caribbean. The jungles there are full to the brim with impenetrable forests, bountiful vegetation, and a host of diverse species of both plants and animals. As it turns out though, it's also perfect for thrilling bike rides.
St Lucia Island harbors the most captivating jungle scenery you'll find in the Caribbean. It's home to some spectacularly unique wildlife, the highlight of which is probably the endemic Saint Lucia parrot. Beyond the fauna, there are many tracks that people regularly use to dash through the thickets of St Lucia.
Punta Venado Bike Park provides loads of different mountain bike trails for both the novice and veteran bike rider. Along these tracks, you'll encounter both natural splendor and beautiful colonial ruins that take the breath away. Another organization that might interest you is Bike St Lucia.
Mayan Riviera
The Mayan Riviera lies in Cancun, just below the point of Mexico's Yucatan Peninsula. It's quite well-known for its sprawling beaches and warm climate. However, there's more to it than that. A little deeper inland you'll come across the Tres Rios Nature Park, a sprawling jungle habitat.
This national park contains a thriving ecosystem unlike any other you'll see on the continent. It's teeming with fascinating wildlife of all sorts. Iguanas, spider monkeys, agoutis, and coatis are a common occurrence throughout this territory.
There are many wondrous trails for you to enjoy in this park. The terrain provides both low and high altitude terrain for bike riding, so it has the best of both worlds.
Ma Da Forest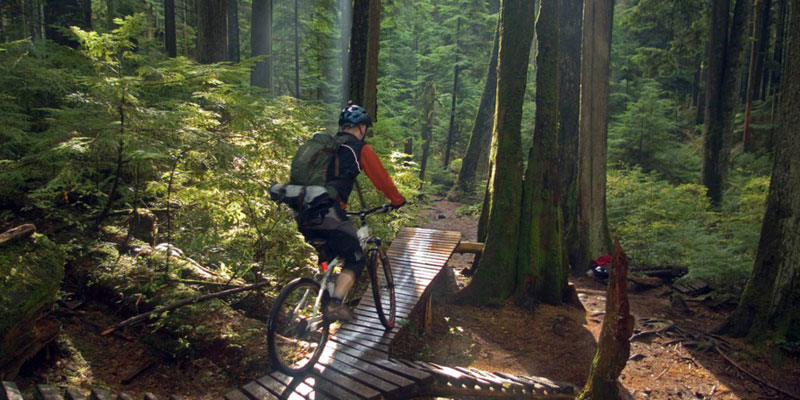 For this one, we need to venture into the land of Vietnam. The Ma Da forest lies in Dong Nai, in the country's southeast region. It shelters all kinds of exotic wildlife amid its undulating mountains and valleys. It also saw the horrors of the Vietnam War but has long since healed from the atrocities.
Beside the jungles themselves, Ma Da is decorated with marvelous rivers, paddy fields, and a splendid network of roads and trails ripe for some quality biking. Many of these trails run parallel to the Dong Nai river, a most spectacular sight. Some roads are less fearsome, while others pose a challenge even to the more experienced riders. Whatever the case may be, everyone can enjoy a good trek on wheels in the Ma Da Forest.
Corcovado National Park
Costa Rica is a tropical jewel of Central America. Even though the country's size isn't all that much to write home about, its biological diversity is through the roof. This relatively tiny state holds five percent of the world's biodiversity! Given these natural riches, about a quarter of Costa Rica is natural parks and otherwise protected territories.
Corcovado National Park provides much of this diversity. It's located at the country's southeast region, on the Osa peninsula. It offers over 160 square miles of almost impregnable vegetation and colorful wildlife. Naturally, people's desire to marvel at this miracle of the natural world has led to various tracks that work perfectly for off-road bike riding.
There are various options for the bold riders among you as well as those who aren't looking for so much risk. Along these, you can marvel at the jungle vistas and catch glimpses of some iconic Costarican imagery, like Christ the Redeemer.
Key Tips for Jungle Biking Beginners
Keep your body loose: you'll be riding over pretty uneven surfaces. Luckily, quality bicycles come equipped with suspension that softens the bumps and blows of such terrain. You, however, need to adapt to the rough ground too. To do that, don't be stiff while riding. Your behind should rise from the seat when crossing larger bumps.
Move your momentum: as already stated, the ground is a little inconvenient for casual bike riding. To compensate, you should keep your center of gravity above the rear wheel. To manage this, you have no choice but to shift your momentum to suit the moment.
Don't hit the brakes too hard: jungle biking can get quite scary at times. When you believe you're seconds away from crashing, your natural reaction will probably be to squeeze the brakes with all your might. This, however, will probably wind up hurting you even more. Mountain bikes usually have pretty strong brakes, so a gentle press will probably do the job of stopping you much better. If you're in a bind, don't squeeze the front brake (the left one).
When the going gets rough, don't slow down: the quicker you move, the more bumps you will avoid. Slowing down, therefore, will just enable the bicycle to feel more of the surface, making your ride less stable. To prevent this, maintain your momentum. That way, the odds of you crashing actually decrease.